select 

Raising awareness for sustainable seafood and MSC/ASC certification.
https://www.panasonic.com/jp/corporate/sustainability/citizenship/environment/sustainable_seafood.html
Panasonic aspires to contribute to preserving marine biodiversity by becoming the first company in Japan to adopt sustainable seafood in its employee cafeterias, thereby increasing awareness for the certification system for protecting the rich marine life and transforming consumption behavior by encouraging people to choose sustainable food.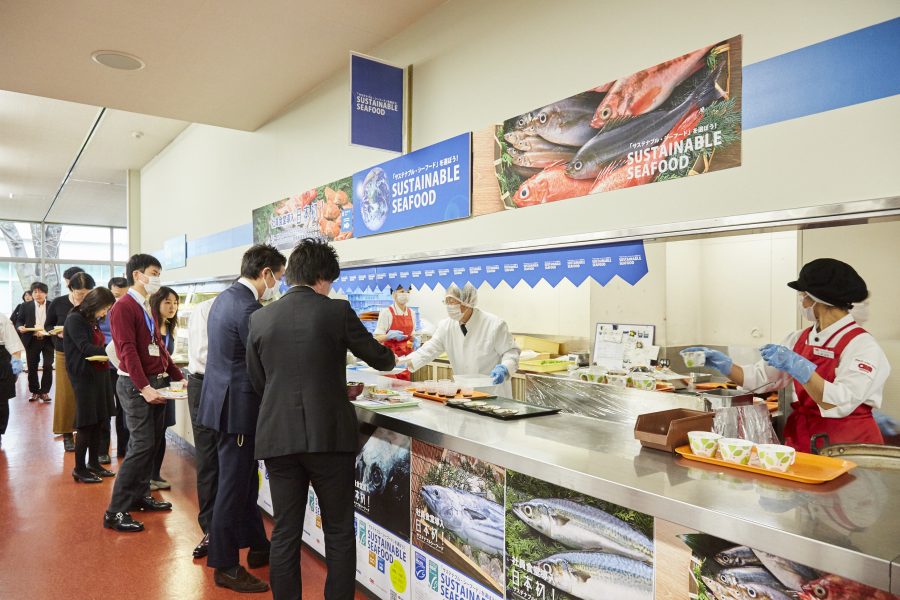 Sustainable seafood has been adopted by Panasonic's employee cafeterias.
1)Background/motivation for adoption
[1] Social background
– There is an urgent need to address SDG 14: Conserve and sustainably use the oceans, seas and marine resources for sustainable development.
[2] Panasonic's involvement
1. Working together with WWF Japan over the last 2 decades to help protect rich marine life.
– Through its efforts to help rebuild environmentally conscious oyster farming in Minamisanriku, Panasonic has directly and indirectly helped farmers gain MSC and ASC certification, including the first ASC certification obtained in Japan in March 2016.
2. Supporting the Olympic Games for over 30 years.
– The Tokyo 2020 Olympic and Paralympic Games places great importance on sustainability and Panasonic wishes to contribute to such efforts and to the legacy as the Official Worldwide Partner of the Games.
3. Resolving social issues by encouraging employee involvement in society.
– In 2018, Panasonic celebrated its centennial. To mark this milestone, Panasonic has been promoting activities that help employees become aware of social issues and take part.
– Panasonic has 100,000 employees in Japan, and by adopting sustainable seafood in cafeterias in its approximately 120 offices across Japan, they can spread awareness among not only its employees, but also their families, friends, and local communities and thereby have an even greater social impact.
2)Initiative objective
– By raising awareness for sustainable seafood and the relevant leading certification, MSC/ASC, Panasonic is aiming to transform consumption behavior starting with its employees who are also consumers, so that it can help achieve SDG 14, enrich biodiversity, and build a sustainable society.
3)Initiative overview
[1] Adoption at employee cafeterias
– To provide sustainable seafood in employee cafeterias, food service companies, distributors, and suppliers must also apply for "MSC/ASC" CoC food processing and distribution certification, so Panasonic explained its philosophy and vision to gain their support.
– In order to raise awareness and foster understanding among its employees and become the first company in Japan to adopt sustainable seafood in its cafeterias, Panasonic created explanatory panels and posters, table top POPs, etc. and distributed fliers.
[2] Adoption at many more Panasonic facilities
– In order to adopt sustainable seafood in many of its facilities, Panasonic has been working with food service companies, etc. to promote and encourage their certification application.
– As of December 2018, sustainable seafood has been adopted at 11 of its facilities.
[3] Promoting the adoption of sustainable seafood at other facilities including employee cafeterias in other companies
– Panasonic has organized briefings, participated in lectures and events, and has also responded to personal consultation to propose ideas and provide assistance.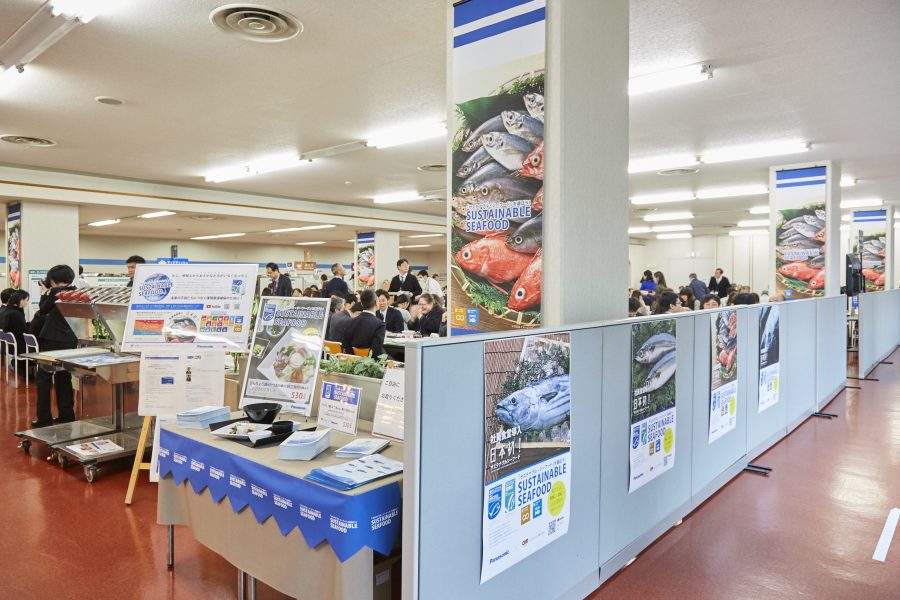 Raising awareness for sustainable seafood and MSC/ASC certification.
更新日:2018.12.26  ※記事の内容は投稿当時のものです