show feel 

The picture story show of the living creatures in Shibukawa Town : Telling the treasures of our hometown.
The support committee for making the picture story show of the living creatures in Shibukawa Town is an organization that helps provide "biodiversity education" to all students of the Shibukawa Elementary School. It has supported children's efforts to describe Shibukawa's biodiversity with pictures and illustrated picture-card stories.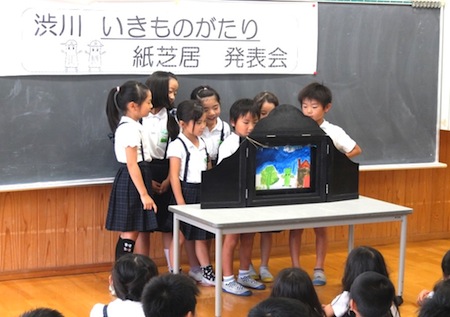 Last year, students of the Shibukawa Elementary School chose a local organism and studied and surveyed it over the course of the year. To help these efforts, local residents and teachers formed the "Support committee for making the picture story show of living creatures in Shibukawa Town." The committee is comprised of 80 members including residents, representatives of organizations, public administrations, research institutes, youth representatives, and teachers. The committee discusses ways to help learning and ways to share results. More specifically, residents who know the area well and specialists who are well versed in biodiversity help teachers develop teaching materials and also take part in the classes.
In addition, in order to share the findings with a wider audience, the committee provides new opportunities for children to get involved such as the illustrated book on Shibukawa's biodiversity and the We Love Shibukawa Museum organized at town festivals. The Shibukawa biodiversity picture book created by children and adults was actually comprised of 4 large illustrated folding screens that introduced various organisms in the region. It featured illustrations of 106 living organisms they found created by all 553 students of the school and 40 teaching staff. The folding screens were exhibited at the school, as well as at the community center, city hall, museums, and shopping malls to help communicate the wonders of their home region.
This innovative program also provided other opportunities to share their findings. They stood in front of the folding screens and introduced their hometown to the Vice Minister of the Environment, the Governor of Shiga Prefecture, and the Mayor of Kusatsu. This year, with the help of residents, children once again searched for organisms and made 100 picture-story shows. The committee also supported this activity, and invited people of the region for a show-and-tell to introduce these stories. The committee helps give people an opportunity to take a look at biodiversity through the children's eyes, brings people together, and creates a town that people can be proud of and love.
更新日:2014.10.10  ※記事の内容は投稿当時のものです