show 

No Touch Sango (Coral)
https://www.webman.jp/english/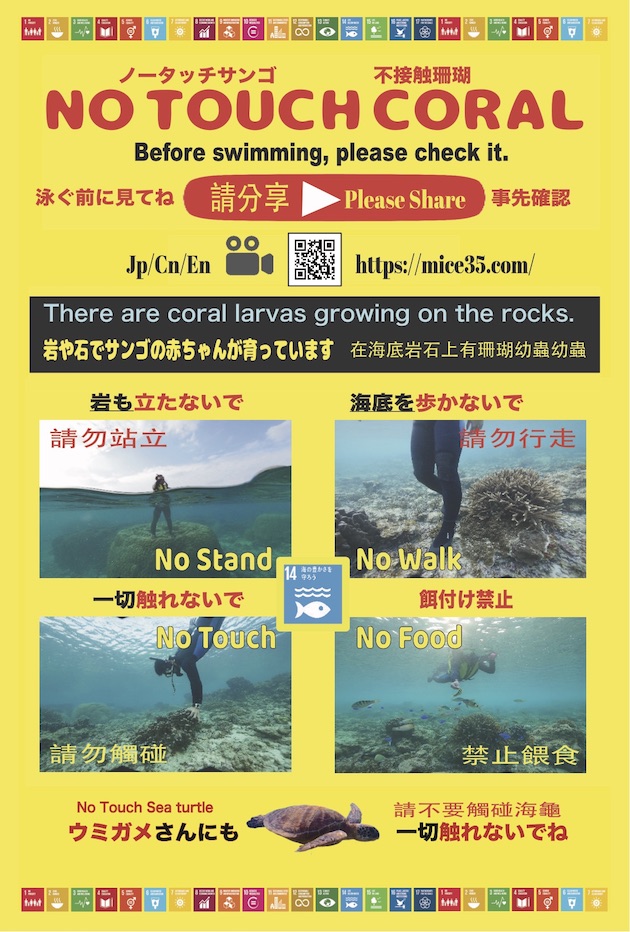 In order to prevent negative impact on coral reefs due to increase in tourism as a result of direct flights to the Shimojishima Airport, the group has created series of "No Touch Sango (Coral)" videos, and are introducing them widely (in Hong Kong, Taiwan, mainland China, Japan, etc.) to raise awareness at the place of origin, and showing them at the Shimojishima Airport to raise awareness at the destination.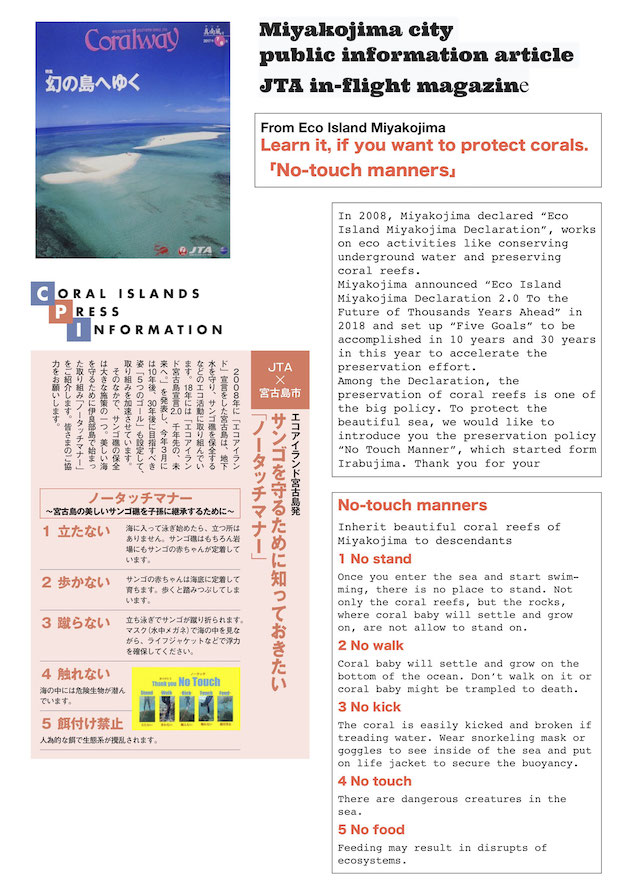 The second Miyakojima City Tourism Promotion Master Plan drafted on March 1, 2019, sets the annual target for tourists at 2 million. Sixty percent of the 2 million are expected to be inbound tourists, with a majority being Chinese Asians. The number of Chinese Asians visiting Miyakojima is expected to reach 1.5 million soon, many of whom may enjoy snorkeling among the coral reefs after flying in on a direct flight to Shimojishima Airport. Coral reefs are an essential tourism asset for the island. The worst case scenario would be for the coral reefs to get damaged and disappear, and as a result, make Miyakojima's tourism no longer sustainable. 2019 is said to be the first year of SDG implementation, so there is urgent need to adopt measures to ensure that tourism on Miyakojima remains sustainable.

In places of origin such as Taiwan, Hong Kong, Shanghai, the group expands the reach of "No Touch Sango" videos, heightens engagement with e-Learning and VR experiential tours, teaches people that baby corals are growing even on rocks and boulders, thereby mitigating the risk of travelers damaging corals in Miyakojima even before they get there.

With the help of Shimojishima Airport Management Co., Ltd., the group is showing the "No Touch Sango" videos at the Shimojishima and Miyakojima Airports to raise awareness.
The group is also establishing the "No Touch Sango" network, which includes accommodations such as large resorts and vacation rentals, car rentals and restaurants that cater to Chinese Asians.
In order to provide sustainable tours that offer an opportunity for Chinese Asians who visit Miyakojima to experience snorkeling without touching coral, the group will also undertake guide training programs for residents and incomers.
Their activities will also address the impact that underwater drones and scooters may have on coral reefs in the age of Society 5.0, and issue tokens utilizing blockchain that promote SDGs.
更新日:2019.12.26  ※記事の内容は投稿当時のものです